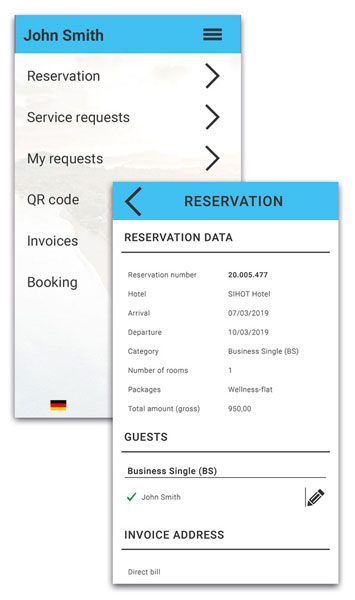 Reservation, Pre-Check-In
Reservations made via the app are immediately transferred to SIHOT.PMS. For the pre-check-in, the guest completes his personal data and, if necessary, can change the billing address. In addition, the guest may even choose an available room within the booked category and provide a digital signature. During the stay, the invoice can be accessed via SIHOT.GO! In case of outstanding payments, the payment can be done online with credit card or paypal.
Service Requests
Your guests can send requests and inquiries before or during their stay. Whether they need additional pillows or an airport transfer – a swipe is all it takes. This feature is set up in the SIHOT master files with everything you would like to be able to offer to your guest. SO this is your chance to shine!
Feedback
The feedback function in SIHOT.GO! is available right after check-in. This means that guests can tell you what they thoughts whilst still in-house. Their evaluation is transferred straight into SIHOT.PMS, where you can track the comments received either in the feedback-dialogue or in the guest profile. Therefore, this give you a good chance to rectify any shortcomings or thank them for positive comments.
Post-Stay Features
Business travellers in particular will appreciate how easily they can recall bills of their past stays at your hotel. In addition, guests can now give their feedback, if they haven't done so during their stay already.
Hotel presentation
You can include a complete description of your property, together with information regarding location and surroundings along with photographs and illustrations. Furthermore, you can also describe in detail and provide photos of each room category that can be booked within the app.