Welcoming guests to the hotel of today should offer them more choice using digital technologies to deliver enhanced service levels.
Hoteliers are no longer simply accommodation providers. The key hospitality cornerstone of putting the guest first has evolved, with technology enabling more experiences and touchpoints to be tailored to the guest. Yet both guests and your team can be swamped by processes and technology, reducing the pleasure for a guest and taking hotel staff away from their focus of providing exceptional customer service.
We can't ignore the influence of the pandemic on digitalisation in hotels – most of all on health and hygiene. Social distancing and low-touch environments are now an expectation and hotels need to find ways to meet guest expectations while keeping operations profitable.
Consumers are increasingly using their smartphones, tablets and mobile phones for self-servicing – and this is now straddling all generations with Millenials and Gen Z expecting these options more than ever, viewing little to no difference between the 'online' and physical world. For previously less tech-savvy customer segments,  75% of people who started using digital channels for the first time in 2020 will continue to use them.
To help hoteliers cater for the 'new normal' and guest expectations, we put our heads together to find solutions for you. Our new SIHOT.KIOSK provides your guests with a seamless, fully digitalised check-in experience – empowering them to manage their arrival at your hotel in the way they want. Every single one of your guests are unique, but there will be commonalities between them: some will want to own and manage their entire stay experience, while others will rely heavily on direct engagement with your staff.
Put your guests in control
We've been tracking the guest journey to digitalise touchpoints that make the difference, providing guests with control and improving their overall experience. Our new terminal offers a secure and efficient check-in point for your guests, allowing them to manage their own data to complete the registration process.
Guests can choose between a dispensed keycard or using their mobile device for room access, and, with the terminal being open 24/7, request replacement keys during their stay. Taking self-service to the next level, guests hoping to make their stay even more special can browse a menu of additional service options, whether it's a room upgrade, booking transportation, activities or food and beverage options. It's like combining airport check-in with a McDonald's take away order.
Greater efficiencies in hotel operations
With increasing demands on your team – managing an array of guest requests and expectations – we wanted to provide you with a system that makes the check-in process more automated whilst ensuring you have all the essential guest data. We've kept it simple: guests just need to type in their booking details, accept your terms and conditions and scan their ID (passports/ID cards). All information is logged in the SIHOT hotel management system so you can be confident that your hotel fully complies with all data requirements and regulations.
The biggest benefit is for your people: your team will gain time to properly service guests and enhance their overall experience. Plus, by developing your menu of purchase options you can earn additional revenue through upgrades and add-ons – all billed at the end during check-out. Like arrival, the check-out process is within the terminal so your guests can maintain control, pay by card and send an invoice to their preferred email address.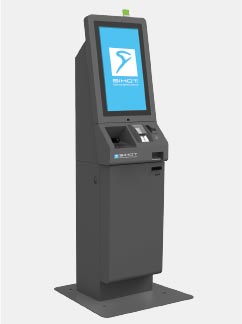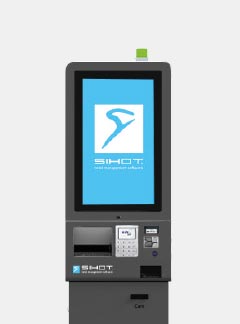 A full hotel experience
The SIHOT.KIOSK can be customised to your hotel brand and hotel processes to ensure more efficiencies. The more we can make technology work for you, the less time your team spends working the technology – meaning you have more time to interact with your guests.
What's more – we've even considered hygiene and cleanliness in the terminal.  It features a touch-screen monitor fitted with an antibacterial nano-coating with bacteriostatic and sterilising components, meaning you can put your guests at ease and be Covid-19 compliant – snazzy!
There's plenty of additional options and benefits in our KIOSK system including barcode-scanner and key card dispensers.
Sign up to our newsletter for regular updates, or discover more about SIHOT.KIOSK as part of our cloud-based hotel property management system by arranging a meeting with one of our team.