Valentine's Day is a chance to showcase the romance of your hotel, services and location – while targeting high-value guests.
Valentine's Day divides consumers with the 14th February sending some hearts fluttering whilst making others' stomachs churn. 
The National Retail Federation found 53% of people celebrated Valentine's Day, collectively spending $23.9bn. Over a third mark the occasion with an evening out, making it a perfect opportunity for hotels to tempt couples to immerse themselves in experiences. And some hotels really do turn into love nests pushing the boat out with unique offers.
From simple offerings that highlight your hotel's facilities and services to opulent exclusive experiences, Valentine's is an occasion hoteliers should fall in love with.
Keep it simple – romantic packages
SIHOT customers embrace the love in February with a range of offers; Welcome Hotels has programmed a romantic candlelight dinner with options to include Spa treatments; Intur Hoteles provides a range of amorous experiences in Spain that includes a special dinner, late breakfast until 12pm and without the need to checkout until 2pm – alike Soho Boutique Hotels that offers an entire Valentine's package including strawberries and cava.
Experiences as the driving force for memory makers 
Going one step further, these hotels focus on experiences that happy couples can have together:
Carden Park curated Valentine's packages where guests can immerse themselves in the beauty and magic of its location. Its Twilight Spa Valentine's Evening gives guests the chance to celebrate their love in style with an exclusive experience. Couples can enjoy the illuminated gardens, and explore the Spa Garden and Indoor Thermal Experiences.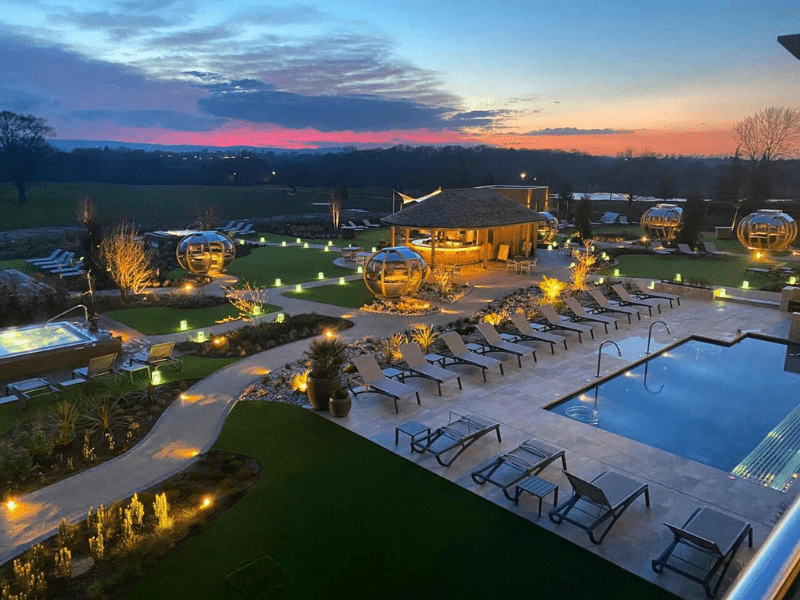 Wyoming's
Brush Creek Ranch
makes the most of its mountain location with guests enjoying private ski trails and participating in workshops. The cosy romantic hideaway offers wine-tasting, baking classes, massage, and sleigh rides.
Monteverdi Tuscany ups the ante with the chance to drive a vintage Italian car, as well as an experience to enjoy a farm- and sea-to-table dinner at the hotel's restaurant, a cocktail class, and spa treatments. The wellness retreat immerses itself in Tuscan life set in the mediaeval village of Castiglioncello del Trinoro.
Exclusive luxury tempts
While there are the affordable couple's retreats, there are also exclusive packages for the romantically wealthy – seeking to splash the cash and lap up the luxury.
Baccarat Hotel in New York delivers a swanky experience including keepsake Baccarat flutes, a five-course dinner with champagne and wine, breakfast in bed and treatments in its Spa de La Mer. Guests retain a memento with a couple's photoshoot in the Grand Salon – complete with professional hair, makeup, and wardrobe styling.
Ocean House's "Sea the Love" Valentine's package
is one to gawp at. With a price tag of $153,600, guests enjoy the scenic Atlantic coast with a two-night stay in a luxury suite including private helicopter transfers, a 2023 Nautical Blue electric Mercedes Benz (to keep!), a private photoshoot, spa treatments, beach bonfire and champagne, two Matouk Linens pillowcases and more – topped off with a Tiffany ring.
Anti-Valentine's
Valentine's Day is a celebration of love, as well as escapism where busy couples make time for themselves – but there's also a growing resistance to Valentine's Day. As a hotelier, consider whether your target market is likely to respond to a romantic offering or the growing 'Anti-Valentine's Day' audience. 
Anti-Valentine's opportunities include:
– Jilted lovers – Hotels.com targeted a heartbroken Anti-Valentine's audience with a headline-grabbing competition in 2021.
– Galentine's Day – popularised by the comedy Parks and Recreation, celebrate female friendship on 13th February. The luxury Royal Palm Hotel Dubrovnik offers a package for three friends in a suite, with spa, cocktail tasting, sparkling wine, free parking, and breakfast.
– Singles Awareness Day – 15th February is a chance for solo travellers to be celebrated with packages targeting single travellers.

Maximising Valentine's Bookings
Whether you choose to make a simple couple's retreat package, an Anti-Valentines offer, or curate unique romantic experiences – it's important to target the right audience. 
It's a great way to drive direct bookings – like Casual Hotels which used its direct channel to offer a 30% discount and free cancellation as a web exclusive offer.
Ensure your database is up to date and contains guest information to identify solo travellers versus couples, and anniversary dates. Incorporate information from your hotel as well as spa and restaurant to gain a holistic picture of your guests. 
By segmenting your database you can share exclusive Valentine's offers with the right people to help you maximise booking potential. SIHOT.CRM helps you manage a range of guest information from guest-provided details to observations gleaned from booking history. 
Contact us to find out how SIHOT's solutions can help you give a gift your guests will cherish this Valentines Day.